Over 50% of African-Americans and other non-Hispanic blacks were unemployed in New York City!! That's crazy!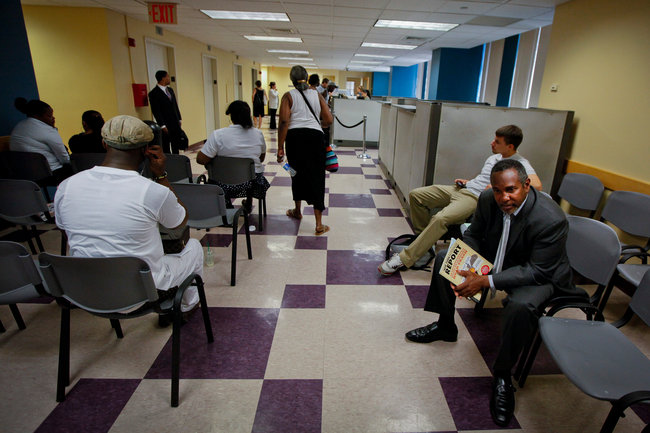 According to the New York Times article Blacks Miss Out as Jobs Rebound in New York City over 50% of African-Americans and other non-Hispanic blacks were unemployed in New York City. That is insane considering the fact that the rest of the nation's numbers are incredibly different and trending in a different direction.
EMPLOYMENT-TO-POPULATION PERCENTAGES
PEAK BEFORE RECESSION
PAST 12 MONTHS
Change
(June 2007-May 2008)
(June 2011-May 2012)

All age 16 +

56.4
54.3
-2.1

White non-Hispanics

58.3
57.5
-0.8

Black non-Hispanics

55.0
49.6
-5.4

Hispanics

54.2
52.7
-1.5

Asian and other

57.8
56.6
-1.2

Umeployment rate

All age 16 +

8.1
15.1
7.0

White non-Hispanics

5.2
10.7
5.5

Black non-Hispanics

10.3
23.1
12.8

Hispanics

10.6
17.9
7.3

Asian and other

7.5
8.6
1.1

*Factors in discouraged workers and those involuntarily working part time. For blacks, the number of discouraged workers has tripled since the recession began, and the number working involuntarily part time has more than doubled.

Data via The New York Times
"According to Dr. Parrott's analysis of the federal data, fewer than half — 49.2 percent — of all black women of working age in the city had jobs in the year that ended in May. That was about the same rate for black men in the same period, as well as in the first four months of 2012." That less-than-half measure in a statistic known as the employment-to-population ratio covers all black New Yorkers, whether they are seeking work or not. It is down from 55 percent in the 12 months that ended in May 2008, when the city's economy was still in high gear, Dr. Parrott found. Nationally, about 53 percent of all blacks and 60 percent of whites are working."
Image via thecollaredsheep.com
Before many jump to racists conclusions (which some of will), this is not just affecting those who are not looking for a job. It is hitting working class and college educated skilled workers too. Stunningly in the article one young lady, a Syracuse grad with a bachelors degree in Marketing has been looking for THREE years.  She attributes her inability to find a job to her name and weight. There have been studies, for example, Are Emily and Greg More Employable than Lakisha and Jamal? A Field Experiment on Labor Market Discrimination, that indicate race discrimination based on our name occurs. It's sad we even have to deal with this. So here are some tips to get around the man:
If your name is considered ethnic try putting an initial in the front of your name. I am a Lakisha (thanks mom. I love my name by the way). So mine would be L. Moore. When I was looking for a job I noticed the number of call backs for jobs increased exponentially when I did this. So sad isn't it.
If you live in a predominately Black area I would suggest getting a post office in a wealthier area and using that address on your resume. People can determine your race by where you live too.
Make yourself available to a mentor. Remember we do not choose mentors. Mentors choose us. They have connections. Having talent is great. But a talent doesn't exist when no one knows about it.
Check the alumni job boards at your old school.
Expand your circle by building solid friendships and creating and cultivating alliances. Include not just the homies from the block and folks who look like you but other people too.  If you are looking to get started try joining community boards, go skiing, check out the X-games, learn golf, play tennis, swim, ride horses, learn about wine, get a passport and travel overseas, read, go to a diverse house of worship, etc.  Don't forget to ignore the "black people don't…" slave mentality.
Finding a job today ain't done like how our parents used to do it. You can't just look at the want ads and expect someone to call. The discrimination laws are changing and we have a much more conservative legal system. So people are getting away with shady practices. Folks it's also nice that the president is black but you are pretty much you are on your own. We have to face the fact that today it's not about what you know. It's about who you know. So get out there make connections and build your dreams. And if all else fails create your own company. That is the option I personally prefer. Considering the nation's changing demographics we need more Black business owners now more than ever!!
Good luck!