This matchmaker wants Black women to date bisexual or broke Black men.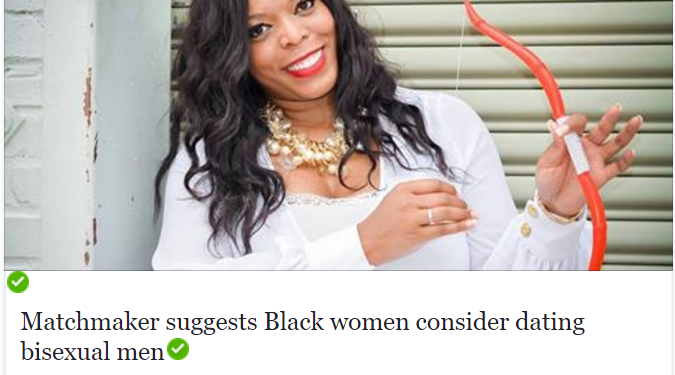 In this post I'll offend people and they'll call me whatever-phobic. I don't care. I want to save Black women's lives. Screw your PC stuff when my sisters are dying. I want you to read the article below and come back here to read what I have to say.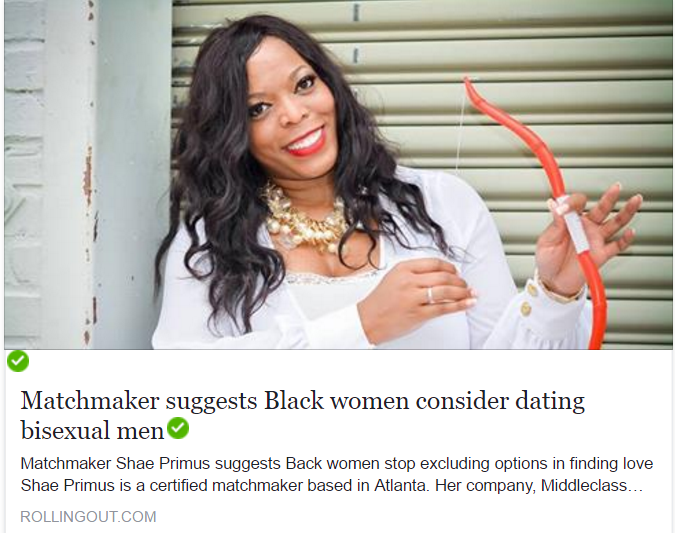 According to Rollingout.com,
"During a discussion on her company message board, Shae Primus shocked members by suggesting women give men who have experimented with same-sex relationships a chance. "It's unfair that many women have had same-sex experiences, but at the same time, they judge men who have experimented with the same sex. Even if a guy has had one experience, most women will totally write him off as undateable."
This is the sh** I and many other Black women have talked about this for years. Y'all think I'm kidding or lying when I tell you Black people want Black women to settle. Oh wait. There's more. Primus then says,
Besides sexual history, Primus says women strike men off their potential lists for superficial issues such as not having a car, or "enough money" or even too many children. "You can't love people by qualifying standards; allow people to grow. You can meet a person today who is struggling financially trying to get their life back together and by the end of the year they are up and rolling. Guess what? You just missed out on a great guy. When you help someone build, it teaches you and builds your character, and it also means the man will have loyalty to you. You get the chance to grow together," Primus suggests.
What the hell is this? Are you freaking serious? This lady (and I'm being so kind) is out of her ever-loving mind. Not only did she say we should take a look at bisexual Black men, she also said we should consider men who are financially struggling and have litters of children.
Whew! Let me preface this by saying if a Black woman wants to love a bisexual man, it is her choice. I support her decision. Do you girl. If a Black woman is like naw, we shouldn't stigmatize her too. The one who says "no," has her reasons. Especially since we know half of bisexual Black men will contract HIV. That sis is third world level shi**. I wouldn't date a bisexual man because of the stats. Yes, I know you can get HIV from a straight man, but when the stats say 50% of bisexual Black men will get HIV, I am well within my rights to say, "I'm not interested in bisexual men." You see, I watched both my aunt and uncle die from AIDS. When I went to my aunt's home I could smell death and she was barely alive. I wouldn't wish this on my worse enemy. If that makes me biphobic, fine. I have every right to my choice.
And if you're a man who is financially struggling, you have NO BUSINESS being in a committed relationship. Your ass should focus on making money to take care of your FUTURE family. If you have multiple litters of children, get counseling and consider marrying one of the women you thought were good enough to knock up! What kind of man are you to offer a woman nothing but struggle and pain? What kind of selfish man are you? F**k you and f**k struggle love.
You know why she promotes this trash? One she's in Atlanta. Consider the demographics there. Enough said. Two, she thinks our asses are desperate. Three, like every other messed up "relationship guru" she is peddling dysfunctional bull sh** for sales.
Sis, I'm tired of seeing Black women be the sacrifice for Black love even though everyone knows there aren't enough Black men to go around. Before you call me a Black man hater, I married a Black man, but I ain't blind. There are 1.5 million MORE Black women than Black men. The ones who are left are gay, were or are incarcerated (1 out of 3 have been in prison), are unemployed (8.6%), have children, are cohabitating or are already married (only 32%). Instead of telling Black women to look at all men, including Black men, she says settle for struggle. GTHOH!
We need to tell Black women the truth and shut Black folks like this down. Black women deserve better. We deserve a partner who values us. We deserve a partner who is honest with us. We deserve a life without struggle and settling. We deserve a life that is disease free. We deserve a partner without multiple litters of children everywhere. We deserve wealth, health, and happiness. Sis, I will not sacrifice my life for the cause especially when the cause wants to see me dead, mentally ill, suffering from PTSD, sexually and physically abused, living in violent communities and struggling for the idea of Black love. Neither should you. Sis, you and I deserve happiness.
As much as I love Black women, I'm truly convinced the biggest promoters of Black women's oppression and misery aren't Black men. They just benefit from it so of course they will push it. It's Black women who uphold it. It is Black women who teach it to our daughters. It's Black women who promote and buy trash like this because they want you to suffer just like they did.  You have options. You have a choice.  To struggle love I say, enough is enough.
If you're mad at me for saying this, so what. If it makes me a bigot, so what. Deep down you hate Black women. Stomp, scream, and cry. I don't care. I hope I just saved a sister's life.
The only limit you have is the one you have placed on yourself think and be limitless.
Share this post. Remember your donations keep BBG independent and going. Without you, we won't exist. Consider donating today. Thank you!

Create your own personal life plan look at my Change Your Mind, Change Your Life Goals and Action Plan Worksheets. It will help you create goals and action steps to meet them. Check out my book "Change Your Mind, Change Your Destiny" on Amazon for only $2.99. Did I mention it is free for Amazon Prime and Kindle Unlimited users? WE LOVE FREE!! Want to set goals? Take a look at my How to set goals course for $10. You'll receive a recorded course that you can listen to anytime. Finally, try my 5 steps to building a killer blog and make money from it course. How much is it? Only $20. Start making money online today.