I'm back. What's going on in my life and a little motivation. (Video)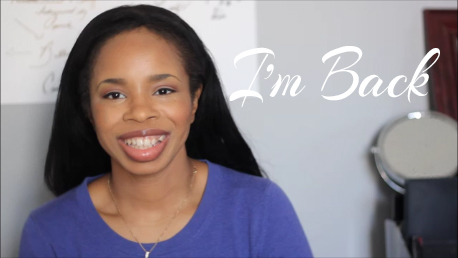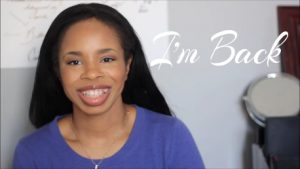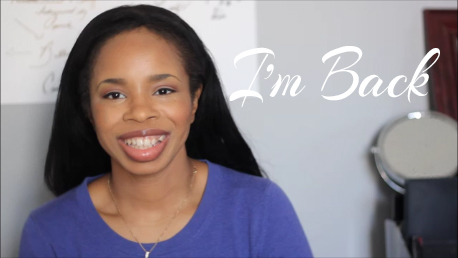 Text
Hey y'all I am back. As many of you know, I lost my husband this year and it has been pretty tough. I thought the year that I lost my grandmother would be the toughest year but it turns out, this (year) was really, really tough.
There were times when I wanted to just sit in bed and eat my cupcakes and just enjoy my wine and just stay there. You know, but I couldn't. There were times when I wondered how am I going to pay the bills and how was I going to raise my sons because I never thought I'd be doing this without my husband. But what I decided to do was to channel all that energy into something positive.
What I realized was the 16 years that I did have, was an absolute gift. You know, a gift that many people don't have. A gift that many people are looking for. And so I treasure it. I treasure the short time I had with him. I wish it was a lifetime, but life has it's way of saying, "you know, I'm in charge and you can't plan that out, but what you can do is appreciate what you did have." And I do. I really do appreciate everything about him. He was a great guy. He was funny. I couldn't stand him at times we talked about sports because the teams that I loved he didn't like. He was a Red Sox fan and I'm from the Bronx. You can hear the accent. And I'm a Yankees fan and I'm a Jets fan. And my team, is my team. His team was the Denver Broncos so you know he had to always throw it in my face. So it was things like that. I appreciate that too. I was so lucky and so blessed.
I channeled a lot of my energy into working out, eating right and raising my children instead of sitting here and being hard on myself. I'll admit, there are days that I did cry because I do cry. But that's normal. That's part of the normal process. Now I truly appreciate and I'm grateful for what I did gain. That was love, my sons, and a great husband. Sixteen years of kick ass marriage. Fourteen years actually. Sixteen years of being together and 14 years of a kick ass marriage and I can't ask for anymore than that.
So enough about me, let's talk about you. We have been through one heck of a year. It has been absolutely tough. I mean it kicked our butts. But I want you to look on the bright side. And I know people are like oh, this positive thing. I'm sick of that stuff, but you have too. You should! Because you went through all of that stuff. Because you might have lost someone. Lost a job. Broken up with a partner or spouse. Because you have gone through some rough times, what it means in 2017 that you can do anything. If you can get through what we went through last year, we can do anything.
There is absolutely no excuse for us to settle. There is absolutely no excuse for mediocrity. There is absolutely no excuse for not trying. So in 2017, I'm going to challenge you To live to the best of your ability. Take the old story that you had, the struggle, the heartache and pain and decide to write a new story. Write your own chapter. Decide what you want to do with your life and do it. There is nothing stopping you. Like I said, you made it through last year. You made it through the tough times. You made it through the hard times. Now we've gotten over that hump and the rest of our life is up to us. So what are you going to do about it? Are you going to say I wish I could've did this. I wish I could have done that. I'm so sad about what happened to me in the past. I was hurt. People mistreated me. People treated me like crap. I lost something. I lost someone or are you going to say, yeah you know what. I got my ass kicked last year. This year, I'm going to do the ass kicking. I'm going to kick 2017 in the ass. That's what you're going to do. That's what I'm going to do and I expect that out of you.
So I look forward to working with you this year. You are my passion. I love doing this. I love being here for you. I love being your support. I'm going to cheer you on from the sidelines. Hey girl. Hey guy. You can do this. I know you are going to get sick of me. You're going to be like, oh she gets on my nerves. She's so darn positive. How the heck does she do it? It's because I'm grateful and I appreciate every single moment. I realize life is a gift. You know we live and we die. What matters is what we do in between. And I hope you that you decide, what's in between life and death and what's in between our beginning and our end, is what's important to you.
I want you to know you are limitless. The only limit you have is the one you have placed on yourself. Again, I need you to think, be, and know that you are absolutely, 100% limitless. I'll be having some courses in a few weeks so I look forward to you joining me about that soon. We're going to kick ass in 2017. I said a**. I'm sorry. We're going to kick butt in 2017. My mom and dad are here so. But we're going to do it.
Thank you for your words of support. Your encouragement. Your virtual hugs. Your hug, hugs. Your love. Your kind notes. Your letters. I'm just. I'm so grateful. I'm grateful for everything.
Thank you for watching. Have a great day. Bye!
Share this post. Remember your donations keep BBG independent and going. Without you we won't exist. Consider donating today. Thank you!

Create your own personal life plan check out my Change Your Mind, Change Your Life Goals and Action Plan Worksheets. It will help you create goals and action steps to meet them. Need a last-minute gift? Check out "Change Your Mind, Change Your Destiny" on Amazon for only $2.99. Did I mention it is free for Amazon Prime and Kindle Unlimited users? WE LOVE FREE!! Also check out my 5 steps to building a killer blog and make money from it course. How much is it? Only $20. Start making money online today.
Have a Happy New Year! Your friend,
BBG