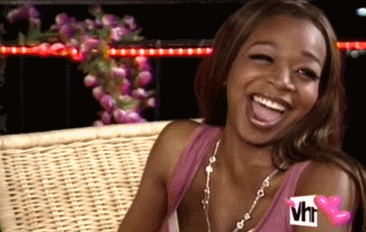 Let me preface this post with a story before we get in the meat, potatoes, rice, and peas. I'm hungry now.
Many of you know I was in the Navy. That's where I met my late hubby.  When I was in the Navy, I hung out hard with a Black male friend. Let's call him Ernest. Ernest was a great guy and a sailor who loved anime, Japan, etc. I loved anime too so we'd talk and watch anime for hours. Yes, I'm a nerd. Moving on! The thing is Ernest just happened to exclusively date White women. For those wondering, I never asked why and didn't I care. I just thought he was a cool dude.
One day Ernest was driving us back to our barracks (dorms for civilians). Out of nowhere Ernest asked me, "why aren't you mad I date White women?" I looked out the passenger's side window and told him the truth. I flatly stated, "I don't care who you date." The truth was, I really didn't care and I was in love with my future husband.
The thing is, he expected the angry Black women stereotype. He was stunned I wasn't. I eventually met his latest White girlfriend. Let's call her Becky. Becky would say slick things about Black women, our hair and so called attitudes. My Black ass, like all Black women, was the complete opposite of this racist stereotype. I know I'm intelligent as heck. I'm attractive. I worked out and I am ambitious. I had no shortage of suitors. My suitors were from different ethnic, racial, religious and economic backgrounds. I was just in love with my late husband.
Because I didn't match the racist stereotype in Becky's mind, I was a threat. When I saw that, I left Ernest alone. I don't do crazy girlfriends regardless of how much we both love Naruto. What Becky's sorry ass didn't know was Ernest told me if I wasn't getting married to my late hubby, he'd leave Becky's ass for my 4C hair, big booty and Blackity Black me. I was his "dream girl" who his mama would love. Unlike Becky, I didn't touch him or even look at him like that. HA!
The point of my story is Black men who think Black women obsess over their interracial relationships are wrong. They're looking for a fight where there is none. Be honest. You're obsessed with Black women. Y'all need Black women to prove every racist stereotype about ourselves so you can give yourself permission to hate Black women and be OK with your dating choices. One more thing. Y'all also need someone to blame when y'all fail miserably. Some people are blaming Black women for Birth of a Nations' fail at the box office. HA!
Facts
There are 19 million Black men in United States. 

Black men are 47.7% of the Black population

Only 40% of BOAN's audience were men.

Black men failed BOAN. Black women were overrepresented in BOANs audience and did not fail BOAN.
Sources: U.S. Census SELECTED POPULATION PROFILE IN THE UNITED STATES- Black Alone
2015 American Community Survey 1-Year Estimates and Why Was the Audience for 'The Birth of a Nation' Made Up Mostly of Women?
The easiest people to blame are Black women because the Black community doesn't want to and is ill-equipped to protect Black women. Ever notice when someone's project fails, people blame Black women. If a Black man doesn't succeed even though we're all from the same environment, it's the Black woman's fault. When the sun doesn't shine, it's Black women's fault. If there was no room at the inn for Mary and baby Jesus' stepdad, it was Black women's fault. If there aren't enough raisins in your Raisin Brand, it's Black women's fault. The truth is little man, this isn't a 1980's Spike Lee Joint, where Black women obsess over Black men. Black women don't give a darn who you date, love or marry. We're too busy living, starting businesses, raising families, going to college, falling in love and loving ourselves.
Let's look at my point on a larger scale. If Black women did care if a Black man married a nonBlack woman, why do Taye Diggs, Omari Hardwick, Michael Ealy, Michael Colter, and darn near every Black man in Hollywood have careers? Because Black women don't care about who they married. All we want is for them to take off their shirts. OK, that's what I want. HEY LUKE CAGE!! If we don't support a Black man's career, perhaps he just sucks, has a horrible reputation, has openly stated he hates Black women or needs to produce better work. The question I should ask is if Black men are willing to support Black women centered work, like Queen of Katwe or Hidden Figures? Looking at Black history, I won't hold my breath. 

Let me repeat this for the cheap seats. Black women don't care if you're with Becky, Maria, Latoya or Chen. If you hate Black women, get help. If you're obsessed with Black women and what we think about your dating choices, get help. If Black women aren't supporting your projects, don't blame the consumer. Make a better product. Your issue with Black women is the hater's cross to bare, not mine. All I want is for Black men to keep our names out of their mouths and stop using racist antiBlack women tropes to justify their nonBlack dating choices.
The only limit you have, is the one you have placed on yourself. Think and be limitless.
If you like this post consider sharing this post and donating to keep BBG going. Without you, we don't exist.

 Create your own personal life plan check out my Change Your Mind, Change Your Life Goals and Action Plan Worksheets. It will help you create goals and action steps to meet them. Need a last-minute gift? Check out "Change Your Mind, Change Your Destiny" on Amazon for only $2.99. Did I mention it is free for Amazon Prime and Kindle Unlimited users? WE LOVE FREE!! Also check out my 5 steps to building a killer blog and make money from it course. How much is it? Pay what you can.