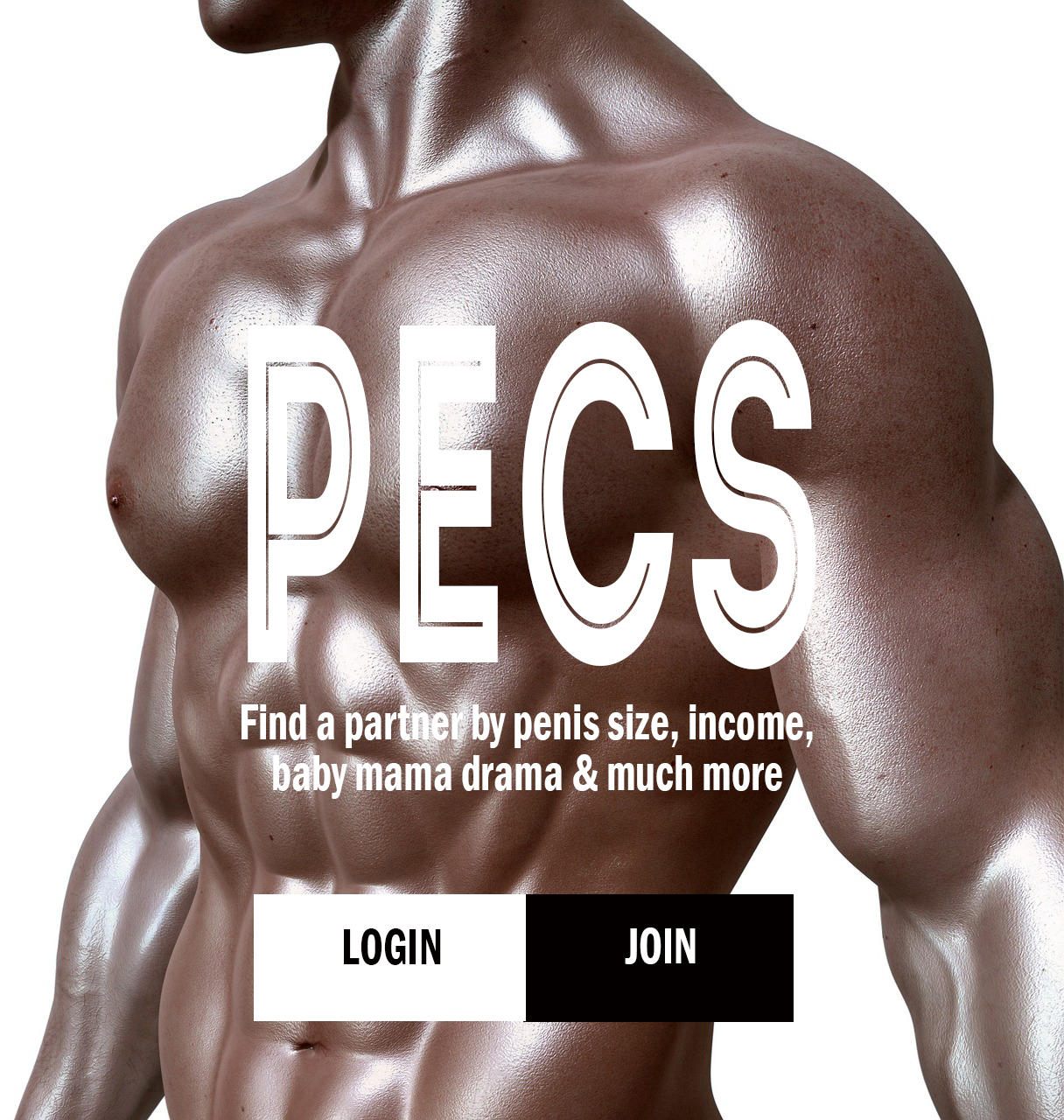 Are you "looking for love in all the wrong places?" Well you've come to the right place. Since #Smoochr, an app for Black singles, lets you pick out a partner based on skin color, hair texture and level of hotepiness, you know, important stuff; today I'm creating an app for women called "Pecs."
You're probably thinking there are thousands of dating apps for women. Why should I choose this one? Well on the "Pecs" app, our match matrix uses a unique blend of scientifically tested questions to get women their perfect match.  We ask the usual questions like age, race and income. Unlike other services, we ask men their penis size, number of baby mamas, can they fix things and if they can read. Here's some examples.
We all know credit scores affect our lives and finance is the number one reason for divorce. To avoid that we ask a suitor if their credit score is:
I f**ked up my credit and will f**k up yours
I pay my bills
What's credit?
At pecs we go even further than any other app. We want to know how many baby mamas you have and the level of drama you've created. So we ask men who use Pecs if their level of baby mama drama is:
This is really about the children
Ciara and petty Future level
Everything is my baby mama's fault
Bobby and Whitney, I am still messing with my baby mama but I hate her dysfunctional level.
Don't forget this app is called Pecs for a reason. Women should have a variety of choices when choosing a mate. As a member of Pecs, men must pose shirtless in their profile pics. Men  are asked if their chest is:
Tig ole bittys
marijuana boobs
taco meat supreme
flat as a White girl's ass
Since the size of a penis is essential to a woman's happiness we want to know if a man is:
A #2 pencil penis
Snow flake ashy
Average, but stroke game good
Thicker than a snicker
Let me call my girlfriend and let her know he's my new baby daddy porn star peen
Finally, we want to know if a man can read. At the end of the online interview he must take a 12th grade reading level test because every woman has right to know if she might be reproducing with illiterate sperm.
So join us Pecs and help build a community focused on the real needs of women.
In my quick legal announcer voice: This post was a joke. Many will get it, but it will go over some heads and will be offensive to the same folks who had no problem with the Smoochr app.  By the way, if you steal this idea, I'm suing you. Thanks for reading.
The only limit you have is the one you have placed on yourself. Think and be limitless.

Create your own personal life plan check out my Change Your Mind, Change Your Life Goals and Action Plan Worksheets. It will help you create goals and action steps to meet them. Need a last-minute gift? Check out "Change Your Mind, Change Your Destiny" on Amazon for only $2.99. Did I mention it is free for Amazon Prime and Kindle Unlimited users? WE LOVE FREE!! Also check out my 5 steps to building a killer blog and make money from it course. How much is it? Pay what you can.