Protecting Victimizer Pharaoh I Have Nothing aka "Conscious Brothers" While Ignoring Black Women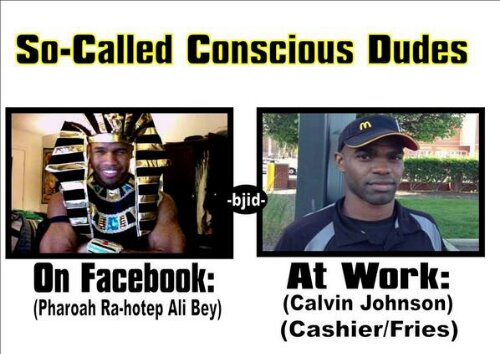 Some people are upset that I am making fun of the fake Black male Egyptians aka "Conscious Brothers" who scream Hotep. First of all, I love the Black men in my life who love, honor and protect me. They actually agree with what I say. Secondly, I don't do race based loyalty. Unlike mammies, I do me. So the rest of them have to earn it.
Now I want to know where is your outrage when they call Black women all kinds of b's, h's and so on? Why aren't you upset that I can't walk on my own street without being sexually harassed by King Nut? Why aren't you upset that Pharaoh I Have Nothing is stalking me online and threatening my or other Black women's lives? Some of y'all advocate my disrespect in the name of your god. I've seen you. Some of y'all blame us for our rape and sexual assault while protecting our Black male perpetrator out of race based loyalty and desperation. I've seen you. How about the sexist music, hastags, videos and pictures some of you share and the pages you support that bash Black women? But you want to be upset about a picture. Please.
It's amazing how some are loyal to any old Black male including the ones that hate you but you refuse to show that brand of loyalty and protection for Black women. You know. The woman that raised you.
Look, I admire loyalty, just not your blind cultish type. So if you are into protecting Ray-ray the antiBlack female misogynist while victim blaming me this isn't the place for you. Have a good day.