Natural Hair Not Professional? 7 easy hair tutorials that prove the devil is liar.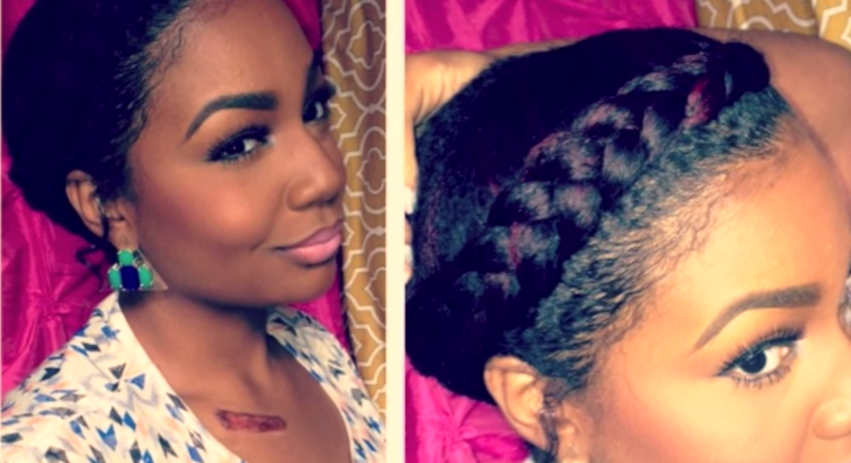 As you know, I am a firm believer in Black women doing what the heck we want. We's free! Well a few days ago, I saw a young woman ask if she should straighten her natural hair for her job interview. She said she wanted to look professional. The question bothered the h-e-double candy sticks out of me.
I thought, why was this even a question? Why the heck is there this myth that natural Black hair is not professional? Who made this rule? I won't lie. The first thought that came to my mind was self-hater! Yes, I judged. It is not right, but I did. I attributed her thinking to the whole internalized racism thing. We've all encountered the Black folks who think natural Black hair isn't professional. They are the sorry folks who say, "when are you getting a relaxer?" when the only thing you want to relax are your four fingers on their face and your nerves. They learned this from people who reinforced old slavery and colonization myths. Think about it. It seems like every time there was a holiday or church event mama would reach for the hot comb so we can't be surprised. Or maybe they watched too many Kevin Hart stand ups and listened to Sheryl Underwood on her show. Honestly, who knows? Then I thought deeper. Maybe these women believed that because Whites do the hiring and firing. Because of that fact, we have to conform our looks to fit in with them. That makes a lot of sense.
Well, I am here to prove all of y all wrong. Here are seven easy do-it-yourself natural hair tutorials that prove Black hair in all it kinky glory aka "the proof" is professional hair.
Ms.Danti looks like a goddess with her goddess braids.
How about upstaging the world with these fabulous updo's by The Natural Tee?

Short hair. Don't care and look fabulous too! Check out this chunky twist out by My Natural Sisters

In a rush? How about you clip and puff your mane? This three-minute tutorial is by the fabulous Beautiful Soul.

Are you rocking long twists, braids or locs? Kiss My Hair shows you four elegant and simple ways to style your luscious mane!!
Twist and shout with the gorgeous Glamourouslife328's dry twist out.

Still not sure about how professional Black hair is. Check out 21 amazing hair styles on medium size starter locs by the creative and beautiful Ihamilt

As you can see there is no way in the world Black natural hair isn't professional. If you believe it, you a lie, your mama is a lie and the devil is a liar and the truth is not in you. Don't let anyone tell you different. Our hair styles had existed long before people left the African continent and will continue forever. One more thing. If someone doesn't hire you for a job based on your hair, name, where you live or the color of your skin they probably aren't the right employer for you. You deserve better anyway.
The only limit your have is the one you have placed on yourself. Think and be limitless.
If you like this post don't forget to subscribe, share this post and or even donate to this blog. Join the internet's only online forum exclusively for Black women here.
Check out my 5 steps to building a killer blog and make money from it course! Pay what you can.
Since you made it this far in the post, as my gift to you, I want you to download my free Change Your Mind, Change Your Life Goals and Action Plan Worksheets. The worksheets will help you create your goals and stick to them.
Have you seen someone you know living an unfulfilled life, and you are afraid of living that way? Are you unsure about achieving your goals and the direction of your life? Purchase my book Change Your Mind Change Your Destiny. It is "The lifestyle blueprint for the strategic Black woman who wants to win and master her life." For only $2.99 and within hours you will be given tools created specifically for Black women to create goals and action steps to help you live the life of your dreams. Take the first step towards fulfilling your dreams. All you have to do is buy Change Your Mind Change Your Destiny today. We want to customize the forum for you. Don't forget to take the 30 second survey here and tell us what you need. Thank you.