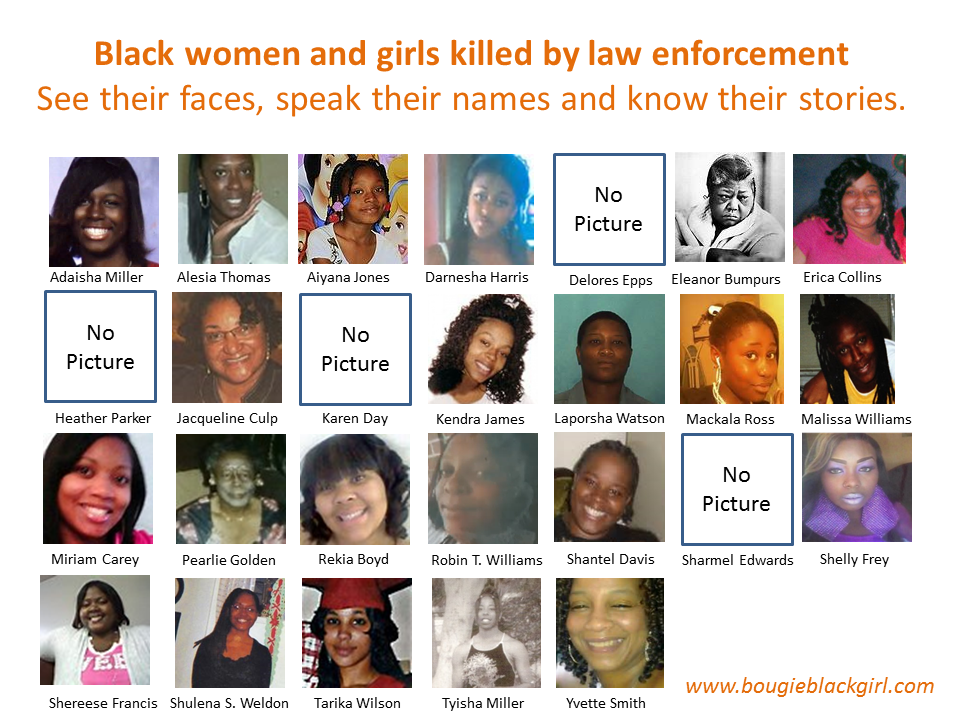 There is this false myth going around that Black women are not victims of law enforcement. I believe the myth exists because quite frankly the media, social justice organizations and we the public tend not to focus on it. It is a self-fulfilling prophecy. I hope this post will make all of us change our minds. Here are the stories of some of the Black women and girls killed by law enforcement:
Adaisha Miller, Detroit Woman, Hugged Cop From Behind
7-year- old Aiyana Stanley-Jones - Detroit Free Press
LAPD cop charged with assault in death of Alesia Thomas
Anna Brown: 29-year-old Black Woman Dies in Jail After Being Dragged By Police Out of Hospital
City to Pay $1.6 Million in Fatal, Mistaken Raid (Alberta Spruill)
Aura Rosser: Police Kill Mich. Woman After Responding To Domestic Violence Call
Homeless Woman Found Dead in Suffolk Police Cell (Brenda Gaines)
Scranton police shooting justified - News - Citizens' Voice (Brenda Williams)
New Brunswick man charged in 20-year-old murder case | NJ.com (Carolyn "Sissy" Adams)
Pregnant inmate died after hours of agony in Syracuse jail (Chuniece Patterson)
17 Year Old Darnesha Harris Dead after Run-In with Breaux
Tashmaya Gay, who was grilled at an NYPD precinct for more than 12 hours over a fatal shooting, gets $100,000 to settle federal lawsuit (Denise Gay)
Erica Collins family files lawsuit against Cincy Police
While Everyone Else Is Busy Remembering Daryl Gates' Life, I'll Be Remembering Eula Love's Death (Eula Love)
Pleasant Grove crash claims life of second person | AL.com (Heather Parker)
Family grieves after loved one killed in crash with APD (Jacqueline Culp)
Family of victim question police use of deadly force - KWCH (Karen Day)
Ex-Atlanta officers get prison time for cover-up in deadly raid (Kathryn Johnston)
Kendra James remembered at Portland rally | KOIN.com
Kyam Livingston's Family Sues NYPD After Death In Holding Cell
Pedestrian Killed on I-95 in Florida (Laporsha Watson)
The Police And Latanya Haggerty - Chicago Tribune
After Cleveland shooting, cities restrict police chases(Malissa Williams)
Cooley's Office Declines to Charge Officer in Mitchell Shooting (Margaret Mitchell)
Jersey City man to cops: You didn't have to shoot my wife (Martina Brown)
Mourners remember Phoenix woman killed in police shooting (Michelle Cusseaux)
Miriam Carey, Capitol Suspect, Suffered Post-Partum Depression
The Death of Natasha McKinna in the Fairfax Jail: The rest of the story
RPD Officer Shoots, Kills Woman (Patricia Thompson)
Elderly Woman Shot & Killed By Hearne Police Officer (Pearlie Golden)
Rekia Boyd Settlement: Family Of Unarmed Chicago Woman
Former Pa. trooper pleads guilty in fatal accident (Robin T. Williams)
Shantel Davis Killed By NYPD Cop In Car Chase | News One
Friends: Woman killed by police was nonviolent | Las Vegas (Sharmel Edwards)
Suspected Walmart Shoplifter Shot To Death In Front Of Kids (Shelly Frey)
What Happened to Sheneque Proctor? (Sheneque Proctor)
The NYPD's Poor Judgment With the Mentally Ill | Village Voice (Shereese Francis)
Harrisburg woman identified as victim in police SUV crash (Shulena S. Weldon)
Where is the Outrage in the Police Killing of Tanesha Anderson? (Tanesha Anderson)
$2.5M settlement in shooting of Lima woman by police officer (Tarika Wilson)
No Charges in Killing of Tyisha Miller - Los Angeles Times
Atlanta police officer accused of killing woman he met on Craigslist (Vernicia Woodard)
Woman Killed Hailing Cab; Officer Held in Accident (Vionique Valnord)
Grand Concourse still 'big, scary street' full of risks for pedestrians after recent death (Virginia Verdee)
Texas Police Admit Officer Shot & Killed Unarmed Woman (Yvette Smith)
This post has been updated by BBG and readers
Judge drops involuntary manslaughter in Aiyana shooting (Aiyana Stanley Jones) (UPDATED)
Cleveland Woman's Death In Police Custody Ruled Homicide (Tanesha Anderson)
If you like this post subscribe, share this post and or donate to this blog. Want to have this conversation in a safe space exclusively for Black women? Join the conversation here. Thank you for reading.