FORUM EVENT REMINDER: Forum chat: Setting goals and achieving them. 1/23/2015 at 8:00 p.m. – 9:00 p.m. EST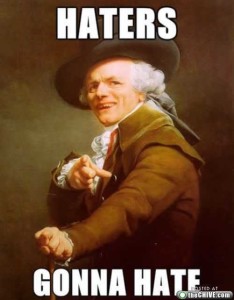 Yes, we are finally back. Thank goodness. I haven't slept since we were shut down. Let me tell you what happened.
Unfortunately, we were hit with a denial of service attack. Someone somewhere who did not like our message of Black women empowering ourselves and sent a huge army of spam bots to our forum. And I mean a lot of them. The spam bots tried to register, but couldn't because they did not pay to get in. That's one of the reasons why there is a $9.99 annual membership. It keeps the bots and the haters out and our space safe.
Even though they couldn't get in, because of them registering they can still overwhelm the servers and shut down everyone else's website that shares the same web hosting company we do. To prevent affecting other websites who share our hosting service the www.forum.bougieBlackgirl.com and www.bougieBlackgirl.com websites had to be shut down.
After a few adjustments by our trusty tech guy (thanks Angry Phoenix) and him smacking down Hostgator because they gave us the two-day runaround (watch it happen on Twitter here), we are finally up and running. We have taken the correct measures to make sure this will never happen again.
Now you see why it is imperative that we have a space to come together, celebrate Black sisterhood, work on our personal and career goals and make new sister girlfriends. That is exactly why the www.forum.bougieBlackgirl.com exists.
We are glad to be back. To all those who dislike our purpose we will not stop. We will not quit. We will always win. I will see you in the forum.
Join the internet's only online forum exclusively for Black women here.
Since you made it this far in the post, as my gift to you, I want you to download my free Change Your Mind, Change Your Life Goals and Action Plan Worksheets. The worksheets will help you create your goals and stick to them.
If you like this post don't forget to subscribe, share this post and or even donate to this blog.
Have you seen someone you know living an unfulfilled life, and you are afraid of living that way? Are you unsure about achieving your goals and the direction of your life? Purchase my book Change Your Mind Change Your Destiny. It is "The lifestyle blueprint for the strategic Black woman who wants to win and master her life." For only $2.99 and within hours you will be given tools created specifically for Black women to create goals and action steps to help you live the life of your dreams. Take the first step towards fulfilling your dreams. All you have to do is buy Change Your Mind Change Your Destiny today.
We want to customize the forum for you. Don't forget to take the 30 second survey here and tell us what you need. Thank you.