My People
The night is beautiful,
So the faces of my people.
The stars are beautiful,
So the eyes of my people.
Beautiful, also, is the sun.
Beautiful, also, are the souls of my people.
Oh no, no, no! Hold up? Is this a new trend, a mistake or a cruel joke? No mas. I can't take any more. Have ya'll noticed that the photos of Black female stars are getting lighter? Here is another question. Why are the white women in the pictures below named Brandy, Ciara and Beyonce?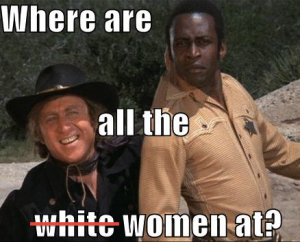 Photo via Giant Killer Squid
Let's face it. The entertainment industry isn't just about talent. It takes a heck of a marketing and P.R. team to have a non-singing entertainer like Ke$ha out sell a true singer like Jill Scott. I also know that females, unlike their male counter parts in the entertainment industry are not just judged by their talent but by their looks. But what's really going on? Did these ladies have the same photographer? Is this a trend among photographers to make Black female stars unrecognizable? The photos below have them evolving into White women. 
Honestly, it saddens me to even blog about this but I have kids. I have nieces and nephews that sing these singers songs and to my dismay they follow their favorite singer's every move. I do not want to hear the line that some celebrities shouldn't be role models. You are right. They shouldn't. But the truth is as much as we don't want to hear it celebrities are role models. Heck, even I wanted to be Micheal Jackson. My mom bought me the Michael Jackson lunch box, jacket, and glove. My coordinationnally (made up word) challenged behind even moon walked a couple of times lol. Don't play like you don't know. Most of us 1970's-1980's babies did. Finally, as a Black woman it bothers the heck out of me to see the erasure of Blackness in the media. Don't believe me? Take a look below.
Brandy is GORGEOUS! She has beautiful Black skin. Why does this picture, as one person on Facebook put it,  make her look like she had rolled around in a bucket of flour? The woman can SANG. She is a true artist. Her talent and longevity in a fickle industry is proof of it. She didn't have to take pics like this? Is whitening a picture suppose to be avant garde? I call bull because it already has been done here and for totally honorable reasons here. Any who, who knew that a photographer could make a beautiful Black woman like Brandy look like Michael Jackson circa 2007? She looks so bright that this picture that it makes my eyes literally hurt.
The pictures above the  are promotion pictures for Brandy's new album. PhotoVia Popularcritic.com
The picture above  is what Brandy really looks like. PhotoVia  IMDB.
Ciara is  very beautiful. We all know Ciara does the hip shaking thing and can dance her behind off. The question is when did the photographer decide Ciara should become Shakira?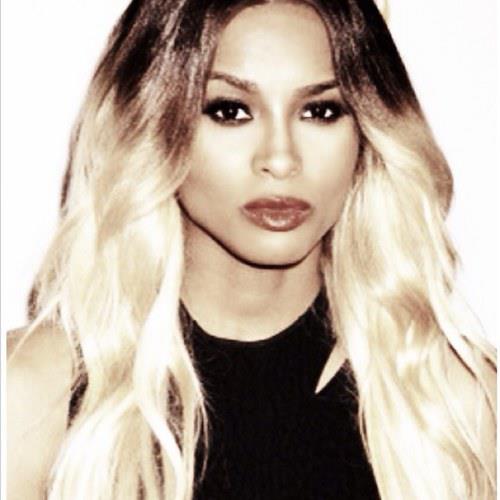 The picture above is a recent photo from Ciara's Facebook page. By the way read the comments on her page regarding this photo. Even her fans notice it.
 The picture above  is what Ciara actually looks like.  Just gorgeous! Photo Via Wikipedia.
Beyonce is this generations Diana Ross.  She can do it all. She can sing, dance, act and do a heck of a lot of other things. She  recently told everyone about her entire racial and ethnic makeup. In the controversial L'Oreal ad, Beyonce points out her African American, French, and Native American ancestry. So I guess in the picture below the photographer was trying to  pay homage to her French side?? RRRRIIIGGGHHHTTT. Fyi,  isn't it also a coincidence that L'Oreal was found guilty of racial discrimination in France in 2007 and 2009?
The picture above is the cover from Beyonce's new album called 4.
The picture above is  from Beyonce's Dangerously in Love album. Both pictures are via Wikipedia.
" Who taught you to hate the color of your skin? Who taught you to hate the texture of your hair? Who taught you to hate the shape of your nose and the shape of your lips? Who taught you to hate yourself from the top of your head to the soles of your feet? Who taught you to hate your own kind? Who taught you to hate the race that you belong to so much so that you don't want to be around each other? You know. Before you come asking Mr. Muhammad does he teach hate, you should ask yourself who taught you to hate being what God made you.~ Malcolm X
Skin Bleaching
We all love to point to and publicly scold the celebrities who have allegedly engaged in skin bleaching or celebrities who have "unconsciously"((side eye))  promoted light skin. But think about it. We have never really engaged or confronted our friends and family that skin bleach. We also hardly ever hear the physical and yes mental reasons and consequences of skin bleaching.
The latest thing is knock women who relax their hair.  You know the "hair wars."  Boring! I personally believe it is easy low hanging fruit. Men against relaxers can't talk. When men  stop wearing du-rags to lay down their hair then they can preach to black women about the using relaxers lol.  But let's be honest. When we cutoff our hair it will revert back to its natural state. Skin bleaching is much more different and far worse. It is the permenant alteration of the skin. The side effects of skin bleaching have been scientifically been proven. The side effects of skin bleaching are mercury poisoning, damage to your kidneys, skin, and nervous system and even worse death.
Picture via Chancellorfiles
Skin Bleaching Before and After Picture. Picture via Bing Search
Signs and Symptoms of Mercury Poisoning
irritability
shyness
tremors
changes in vision or hearing
memory problems
depression
numbness and tingling in hands, feet or around mouth
Why do People Skin Bleach?Why are people actively try to erase themselves by mimicking the look of those who enslaved or colonized their ancestors? 
This is my opinion. Our skin color is a true marker of our original identity and there are folks who want to figuratively and literally want to erase themselves. There are millions of millions of people all over the world (this is not just a Black problem see China and India) who are engaging in the very sick and dangerous practice of skin bleaching because they hate themselves and/or believe that white skin equals a better quality of life.  There are no if ands or buts about it. In most places skin bleaching is a by product of white supremacy, colonialism, and slavery.  Bleachers have been conditioned to believe in their own racial inferiority. We's  physically free! The chains may be off but sadly bleachers are still mentally shackled to Master's/Mister's plantation.
I personally believe the image of whitened Black people reinforces a negative self image among Black folks . If you read the ad's of these whitening creams their claims are to get rid of flaws and imperfections. That is exactly how colonized Black folks see their skin. They =have been told that their  Black skin as flawed and imperfect and believe that their skin is flawed and imperfect. What these colonized folks forget is that the skin of  Black people represents the first people to walk the earth. Since Black people are the first people to walk the earth aren''t Black people a reflection of God's image? These pictures and creams  only serve to erase Black people and reinforce the false notion and lie of white supremacy.
What can you do?
I have personally decided to only support images and people that will uplift me. Whose side are you on? When will enough be enough? Will you do the same?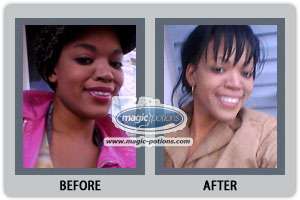 Photo via Magic-potions.com
A Skin Bleaching Product. Picture via St Dalfour Whitening Cream
Celebrities who have been accused of skin bleaching:
Vybz Karte Picture via YeahISaiditcom
Dancehall Artist Vybz Kartel Compares Skin Bleaching To Tanning … LOL!!!
Former Major League Baseball player Sammy Sosa. Picture via LovelyTi.com
Sammy Sosa turning white? Rejuvenating process my ass. More like a reinvention process..
Here are some vintage Nadinola Bleaching Cream Bleaching cream ads. These ads even ran in Ebony magazine! Nadinola still sold in Walmart, Walgreens and in other stores.
***Warning post supporting skin bleaching will be deleted. ***