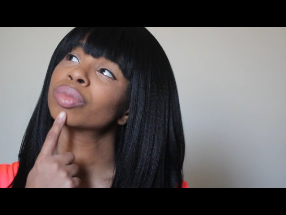 People ask me about blogging all of the time. I've been blogged since 2013 and I love it. I've succeed and failed, but the best thing about blogging is that I'm constantly learning about people, life and of course blogging.
Since my audience is Black women; if you want to focus solely on Black women, it's not lucrative unless you are doing gossip, religion, pop culture, relationships, fashion, etc. The problem with these niches is they're over-saturated, but if you can make your content better I say go for it.  You don't have to reinvent the wheel, you just have to make the wheel better. Make your blog better. I just do my thing which is business and entrepreneurship everything!
Seeing Black women succeed is my passion and it's just one way to improve Black women's lives aside from the awesome relationships, fashion, etc websites. Alright no more about me. I could keep on talking about how I adore Black women and how I want to see Black women win, but y'all know this already. You can make six figures doing this, but you have to be smart and of course take my advice below. (I am not making six figures, but you can donate to my student loan fund below. There are bloggers who are. So here are 12 lessons I learned so you won't be a broke blogger.
There are ideas everywhere. Writers block happens when we don't listen to our readers.
Blogging is not lucrative until you sell ad space. Check out my ad prices on my Advertising page and even with the size of my audience I don't charge enough.
Know what you are worth.  Stop giving away everything for a low price or free. I charged only $2.99 for a book that took me months to make. I did this thinking about the cost to my readers, but it cost me. If people are willing to spend hundreds on hair and makeup they probably will spend $10 for a book that will change their life.
If you want to make this into your career, give away free content, but sell products and services from the beginning.
Free content should include advice. The step-by-step stuff is your products.
Constantly make products and offer services so that you have multiple streams of income. This means courses and even speaking engagements. This is so you won't be heavily dependent on one product.
Guest blog on other sites to draw new eyeballs to your content.
Check your grammar. Sometimes I get so excited about a blog post I publish it before it's ready. I didn't edit enough and saw my mistakes after I published it. People won't take you seriously if you aren't serious about it. Trust me. I know.
If you are appealing to a niche make sure that niche has money. If they don't, they won't buy.
How much should you blog? As often as you can. Be consistent (something I failed at, sorry y'all) so your readers can expect your stuff
Everyone won't like what you have to say. So what! Just say it.
Have fun. If you don't enjoy it, writing becomes a chore and your readers can tell you aren't excited about your content so they won't either.
I hope these tips help you on your journey as a blogger. If you are looking for something a little more in-depth check out my blogging course 5 steps to building a killer blog and make money from it. How much is it? Pay what you can.
The only limit you have is the one you have placed on yourself. Think and be limitless.
What do you think?
If you like this post please share it and help me out by donating at www.bougieBlackgirl.com/donate.
Unsure of what you want to do with your life? Use my free Change Your Mind, Change Your Life Goals and Action Plan Worksheets to create your own personal life plan. It will help you create goals and action steps to achieve them. If you want more detail check out my book "Change Your Mind, Change Your Destiny" on Amazon for only $2.99. Did I mention it is free for Amazon Prime and Kindle Unlimited users? WE LOVE FREE!!
Join the internet's only online forum exclusively for Black women here.