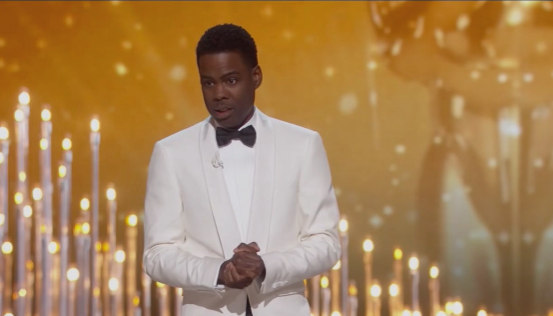 Yesterday I did my good deed of the day and watched the beginning of the Oscars so you didn't have to. To be honest I switched right back to Justice for Flint. By the way, you can donate to Justice for Fling by texting the word JUSTICE to 83224.
Well this year Chris Rock hosted the Oscars which was timely due to April Reign's protest called #OscarsSoWhite. #OscarsSoWhite was a hashtag created in response to the extreme lack of diverse actors, writers, musicians and directors nominated for Oscars. Basically only one person of color was nominated. The irony is that "Straight Outta Compton," with a largely Black cast, was nominated for 'Best Screenplay.' But guess what? The screenplay writers were; you guessed it; White! Sly Stallone was also nominated for "Creed" for 'Best Supporting Actor' while his Black co-stars were ignored. This totally solidifies my belief that the Oscars are like every damn U.S. workplace where White mediocrity is celebrated, Black silence  is expected and Black frustration and excellence are ignored.
"

When your grandmother is swinging from a tree, it's hard to care about the best documentary or short."  Chris Rock
Let me get this out-of-the-way. I hated Chris Rock's monolog. First he took a dig at  the Oscars by calling it "the White people's choice awards." OK cool. Next he said the folks who complained about him hosting the Oscars had to be unemployed because only unemployed people can tell someone not to take a job. So funny! Ha, ha! Yes I'm being sarcastic. And then his typical style, when all else fails to make folks laugh, Rock went and attacked Black women. Rock went after Jada Pinkett Smith about her sitting out the Oscars and compared it to being invited to Rihanna's underwear.  He said, "Jada boycotting the Oscars is like me boycotting Rihanna's panties. I wasn't invited." The largely #FFFFFF audience loved it. He then pushed the envelope further. Rock, in my humble opinion, decided to undermine the #OscarsSoWhite protest by saying Black folk in the 60's had more important issues to protest than the Oscars. Rock said, "When your grandmother is swinging from a tree, it's hard to care about the best documentary or short." He also said, "We were too busy being raped and lynched to care who won Best Cinematographer."  Thanks for believing Black folk can't walk and chew gum at the same damn time Mr. Rock.
You see Rock doesn't seem to understand that images have power. Images shaped and even ignored by powerful entities, can impact a person's life. Kind of like the images of Richard Pryor shaping Rock's decision to become a comedian when he said, "Richard Pryor was the Rosa Parks of comedy… He took risks and chances that made it possible for a whole generation of comics to exist. No one ever rocked the mic like Richard Pryor, the true 'King of Comedy" in 2005 after Pryor's death. But that's not important to Rock. Rock's ass is. He closed by admitting Hollywood is racist, but not that racist,  begging White people to hire us and Stacy Dash looking really weird on stage mumbling about Black history month.
"Is Hollywood racist? You know, that's a, you know, you have to go at that the right way… Is it burning cross racist? Is it fetch me some lemonade racist? No." Chris Rock
Like I said, I hated Chris Rock's monologue. This isn't a scientific survey, but when I did  a meager social media search as one of my Twitter sisters did,  it seemed like many White people liked it. I believe it was because it was geared towards them and minimized supporters of #OscarsSoWhite's concerns. But hey! You know what? I understand why Rock had to play both sides. He works with these people and after he got some hefty divorce checks to sign.
Watch the monologue below

What do you think? Remember the only limit you have, is the one you have placed on yourself. Think and be limitless.
If you like this post please share it by donating at www.bougieBlackgirl.com/donate. Thank you for your continued support!!
Create your own personal life plan check out my Change Your Mind, Change Your Life Goals and Action Plan Worksheets. It will help you create goals and action steps to achieve them. Need a last-minute gift? Check out "Change Your Mind, Change Your Destiny" on Amazon for only $2.99. Did I mention it is free for Amazon Prime and Kindle Unlimited users? WE LOVE FREE!! Also check out my 5 steps to building a killer blog and make money from it course. How much is it? Pay what you can.