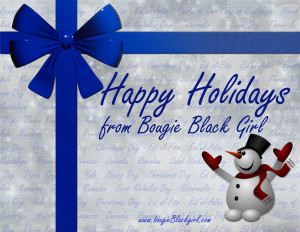 Hey y'all,
First of all I want to thank you for being here and supporting Bougie Black Girl. It's been one heck of a year. We've talked about wealth, career, goals, hoteps, business, Hollyweird and all kinds of great and sometimes strange things. Through it all, you've been here.  For that, I am truly honored. My goal at Bougie Black Girl in 2016 is to continue to improve the lives of Black women and with your support, I will.
Today get a gift for yourself. That gift is self-awareness. I want you to see how are amazing, beautiful, brilliant and wonderful you really are. Don't believe me? Write down five great things about yourself. Next, write down your goals, how you will achieve those goals and then set some flexible dates.  Finally, believe you will achieve them. When you do, great things will happen. See I told you, you're amazing.
One more thing. I want to wish you and family and very happy holidays and a happy new year. May 2016 be the year all of your dreams come true! Remember, the only limit you have is the one you have placed on yourself. Think and be limitless. Thanks again. Let's kick 2016's behind.
Happy Holidays!!!!
BBG
If you like this post please share it and help me out by donating at www.bougieBlackgirl.com/donate. Thank you for your support!!
Create your own personal life plan check out my Change Your Mind, Change Your Life Goals and Action Plan Worksheets. It will help you create goals and action steps to achieve them. Need a last minute Christmas gift? Check out "Change Your Mind, Change Your Destiny" on Amazon for only $2.99. Did I mention it is free for Amazon Prime and Kindle Unlimited users? WE LOVE FREE!! Also check out my 5 steps to building a killer blog and make money from it course. How much is it? Pay what you can.