This post is the first of many where we will teach Black women how to let go of the "strong Black woman mentality" which is a modern product of slavery and learn how to become a powerful Black woman. The powerful Black woman existed long before our ancestors reached these shores (see Queen Mother Ejisu Yaa Asantewaa, Queen Candace, Amina and others ). As you can see, Black women have always been powerful.
Some might say they are the same. No, there is a difference between the two. The difference is the strong Black woman lets the terms decide how she should live while the powerful Black woman lives life on her terms. Read more about the strong Black woman vs the powerful Black woman here. Let's begin!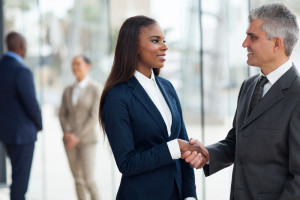 Many Black women are the firsts in their family. We are the first to go to college, start a business or have a lucrative career. Whatever it is; congratulations. However, when you are the first you'll make mistakes.
One of the biggest mistakes I made was I sucked at conferences. I was quiet and to myself. I wasn't super connected and didn't know how to engage people who were different from me. I grew up uber poor in the Bronx and I used my background as a crutch. My insecurity prevented me from meeting people. I told myself those people were different from me. They couldn't understand me. Honestly, a lot of my issues were because I felt like didn't I belong.
After going to conference after conference and producing no results, I decided I had enough and became a conference superstar. Ask my political friends. I started to engage people and won a seat in a political organization. How did I do it?
First, I researched the topic, the hosts and the attendees of conference. When I spoke to people I was knowledgeable. I knew what I was talking about.
Next, I changed my mind. I realized the biggest mistake people believe is thinking relationships are about what you can get. Relationships are about what you can give. I asked myself, "What can I offer these people?" It turns out; a lot.
I also engaged with everyone at every level. Some execs travel with assistants. Instead of being like everyone else and heading straight for big shots, I hung out with their admins. Here is a secret. Secretaries and administrative and personal assistants are the gate keepers. They are also trusted by the high level person. When you build a strong relationship with the gate keepers and they will provide you access.
Need more networking tips?
"The thought of networking can make the otherwise confident & experienced professional uncomfortable. Like it or not, the key to climbing the corporate ladder, growing your own business, or even seeking new and interesting social opportunities is building relationships with people in your network. The great news is that it's not as difficult as it appears! Just follow these 5 steps towards becoming a savvy networker."  Read more here.
People always think the networking event is where you stand out. They're wrong! Networking gets you to the door, but it does not open it. What makes you stand out is when you do what more than 90% people don't do. Follow up! You probably think that sounds great, but how do I follow up? Here are a few tips:
Contact the person you connected with within 48 hours after you received their contact information.
In your follow-up, remind them of who you are, where you met and what you talked about.
Let this person know how they affected you.
Thank them for their time (time is a valuable asset we never get back).
Tell them you will keep in contact.
Let them know that they are free to engage back.
Still unsure?
Below is an example of a follow-up email or get personal and write a handwritten note. I prefer hand written notes because it means you took the time to write it. You can use it or switch it up so it matches who you are. The point is to write a follow-up note.
Dear (name),
My name is (insert your name) and we met at the (name) conference. I am glad met and spoke to you about (topic). Our discussion about (topic) was (an eye opener/ funny/ motivated me/etc) because (explain why).
I appreciate you took the time to speak with me. Please feel free to contact me anytime. I look forward to speaking with you soon.
Thanks again,
(Your name)
The example follow-up was sincere, factual, short and direct.
After the first follow-up, it is best to send cards or emails. Here is my timetable:
Every six weeks with an update on your career. In those emails ask them about their favorite books, speakers, etc.
Send cards during religious and national holidays. If it is a religious holiday and you don't know their faith or if they even have one, it is always nice to say happy holidays.
After six to eight months begin to ask for advice and maybe even mentorship.
Again, do what works best for you. The point is to keep your name fresh in their minds and of course to build a genuine relationship.  I have friends from conferences who I adore and with these tips you will too. I hope this post helps you become a conference superstar.
If you have any tips drop some in the comment section below. If you like this post please share it and donate $1, $2 or whatever you can at www.bougieBlackgirl.com/donate.
To create your own personal life plan check out my Change Your Mind, Change Your Life Goals and Action Plan Worksheets. It will help you create goals and action steps to achieve them. If you want more detail check out my book "Change Your Mind, Change Your Destiny" on Amazon for only $2.99. Did I mention it is free for Amazon Prime and Kindle Unlimited users. WE LOVE FREE!!
Join the internet's only online forum exclusively for Black women here.  Be a kick as blogger like me and check out my 5 steps to building a killer blog and make money from it course. How much? Pay what you can.
Thanks for reading. The only limit you have is the one you have placed on yourself. Think and be limitless.