Happy Juneteenth: African Americans true day of freedom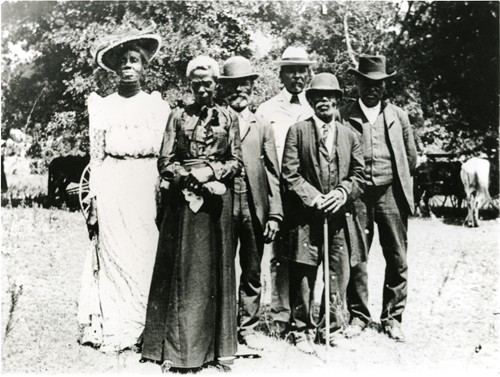 Slavery chain don broke at last!
Broke at last, broke at last!
Slavery chain don broke at last!
Gonna praise God till I die!
Today is the day that General Gordon Granger read the Emancipation Proclamation on the balcony of the Ashton Villa in Galveston, Texas to the remaining slaves two years after slavery was over on June 19, 1865. Juneteenth is the oldest nationally celebrated commemoration of the ending of slavery in the United States. Juneteenth now is recognized in over 40 states. It is African Americans true day of freedom.
General Gordan Granger. Image via Wikipedia
"The people are informed that in accordance with a Proclamation from the Executive of the United States, all slaves are free. This involves an absolute equality of personal rights and rights of property…" From General Order #3, read by Gen. Gordon Granger, June 19, 1865.
"Today Juneteenth commemorates African American freedom and emphasizes education and achievement. It is a day, a week, and in some areas a month marked with celebrations, guest speakers, picnics and family gatherings. It is a time for reflection and rejoicing. It is a time for assessment, self-improvement and for planning the future. Its growing popularity signifies a level of maturity and dignity in America long over due. In cities across the country, people of all races, nationalities and religions are joining hands to truthfully acknowledge a period in our history that shaped and continues to influence our society today. Sensitized to the conditions and experiences of others, only then can we make significant and lasting improvements in our society."
Emancipation Proclamation image via Wikipedia
Many would like Juneteenth to become a national holiday. Rev. Ronald V. Myers, Sr., the founder and chairman of the National Juneteenth Observance Foundation (NJOF) said, "We are hopeful that Congress will finally enact legislation to establish the '19th of June' on all calendars as America's 2nd Independence Day… We are not asking for a paid federal holiday, but a national day of observance, like Flag Day and Patriot Day."
Ashton Villa image via Wikipedia
Go out, celebrate and be proud of where we have come from!! For a list of events, click here.
Sources: BlackPast.org, MSN. Juneteenth.com and USA Today.
If you like this post don't forget to subscribe, share this post and or even donate to this blog. DONATE!! Join the internet's only online forum exclusively for Black women here.
Check out my 5 steps to building a killer blog and make money from it course! Pay what you can. Since you made it this far in the post, as my gift to you, I want you to download my free Change Your Mind, Change Your Life Goals and Action Plan Worksheets. The worksheets will help you create your goals and stick to them. Have you seen someone you know living an unfulfilled life, and you are afraid of living that way? Are you unsure about achieving your goals and the direction of your life? Purchase my book Change Your Mind Change Your Destiny. It is "The lifestyle blueprint for the strategic Black woman who wants to win and master her life." For only $2.99 and within hours you will be given tools created specifically for Black women to create goals and action steps to help you live the life of your dreams. Take the first step towards fulfilling your dreams. All you have to do is buy Change Your Mind Change Your Destiny today. We want to customize the forum for you. Don't forget to take the 30 second survey here and tell us what you need. Thank you