Five business savvy things you can learn from Ledisi's and Beyoncé's Grammy Non-Performance Performance (Video)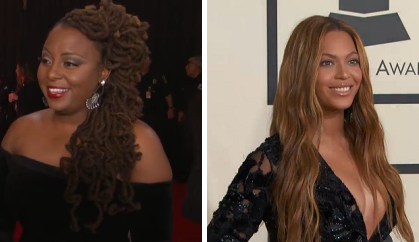 Darn near everyone already knows that Beyoncé sang "Take My Hand, Precious Lord" at the Grammy Awards. It was the beautifully sung song by Ledisi, who portrayed the great Mahalia Jackson in the movie "Selma." While everyone is deciding who is right and who is wrong, there are many lessons that can be learned from this incident.
Listen here for Ledisi's version of "Take My Hand Precious Lord."
Here is Beyoncé's version
https://www.youtube.com/watch?v=PAFDRaB1s78
When you see an opportunity go for it or someone else will. Beyoncé didn't hesitate. She went for it and asked John Legend if she could lead in for his and Common's song "Glory" and claimed it.
According to E! John Legend said, "We were actually approached by Beyoncé. She wanted to do an intro to our performance and introduce us. You don't really say no to Beyoncé if she asks to perform with you." Read more here.
Even if something is not your expertise try it. You never know until you try. Well, Beyoncé tried singing gospel.  While she has a beautiful voice, according to the overwhelming social media consensus, unless you were not raised in a Black church, Beyoncé lacks the soul to sing gospel music. Pop music is her thing.
If you are put in a horrible position, maintain your dignity. That is exactly what Ledisi did. She handled a very uncomfortable situation with a lot of class. She is receiving tons of positive attention. Hopefully, the Oscars will take advantage of the publicity and allow her to perform her version. Take a look at her response here.

Place yourself in a position of power so you can leverage your power. Beyoncé asked to do the song knowing that regardless of the quality of the performance, she could bring eyeballs to the Grammys. I mean, why else would anyone stay up late to watch the show? Unfortunately, Ledisi could not. All the Grammys care about are their ratings! Of course, it does help when your hubby owns the help (John Legend) so you can do what you want.
"All my skin folk ain't all my kin folk." – Zora Neale Hurston. While claiming her choice for singing this song was about the vulnerability of Black men, Beyoncé ruthlessly took the spotlight from a Black woman. In a larger sense, that happens to Black women every day when we focus on Black issues i.e. Black men's issues.  The point is just because we are Black women it does not mean we are all looking out for each other.
What happened between Ledisi and Beyoncé happens in offices, schools, and in life to Black women every single day. It was just remarkable to watch it evolve on such a large-scale. The lesson is you have to go for yours and if someone is taking advantage of you, you have to know how to deal with the situation. I hope Ledisi finally gets the credit she is due and is rewarded for her class and talent. It is absolutely amazing to watch the business savvy Beyoncé dominate her industry. What do you think?
Join the internet's only online forum exclusively for Black women here.
Since you made it this far in the post, as my gift to you, I want you to download my free Change Your Mind, Change Your Life Goals and Action Plan Worksheets. The worksheets will help you create your goals and stick to them.
If you like this post don't forget to subscribe, share this post and or even donate to this blog.
Have you seen someone you know living an unfulfilled life, and you are afraid of living that way? Are you unsure about achieving your goals and the direction of your life? Purchase my book Change Your Mind Change Your Destiny. It is "The lifestyle blueprint for the strategic Black woman who wants to win and master her life." For only $2.99 and within hours you will be given tools created specifically for Black women to create goals and action steps to help you live the life of your dreams. Take the first step towards fulfilling your dreams. All you have to do is buy Change Your Mind Change Your Destiny today.
We are still doing the survey. Tell us the content you want to see here. Thank you.