Chile I done seen it all! White Lady Rachel Dolezal Passes as Black and Runs the Spokane NAACP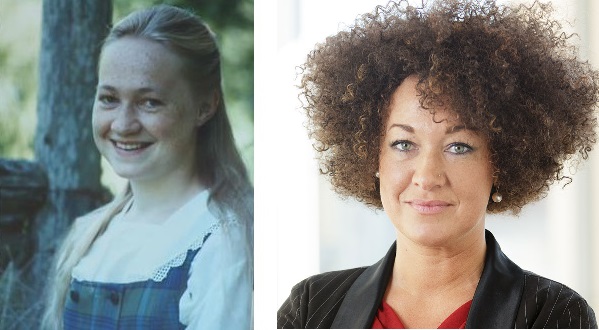 Yep, Mrs. Rachel Dolezal passed as a Black woman. Somebody call Skip Gates ASAP! She has all the credentials. She went to Howard, teaches Black Studies, married a Black man and has a Black son. According to the Washington Times:
"Rachel Dolezal is president of the Spokane chapter of the NAACP, chair of the city's Office of Police Ombudsman Commission, and an adjunct professor at Eastern Washington University.

The Spokesman-Review reported Thursday that questions have arisen about her background and her numerous complaints to police of harassment. The story was first reported by the Coeur d'Alene Press.

Dolezal's mother, Ruthanne, says the family's ancestry is Czech, Swedish and German, with a touch of Native American heritage."
Read more here. Wow. So her parents had enough and outed her!
Here is the video where she's confronted by a KXLY4 reporter at the 8:16 mark.
Check out her shocked face!
Heck, if I were nonBlack I'd want to be Black too. We have culture, food, history, and we are beautiful, brilliant and our ancestors gave birth to humanity. Who wouldn't? I see how other groups augment their lips and butts and tan their bodies to look like me, but gawd dang. This right here is a whole nother (I spelled it like that on purpose) level. In all my years at a stunning and perpetual 28 years old, I have never seen anything like this in my life. This confirms folks want to be like us.
My thing is; we can usually tell who is Black. That's how we know who is passing. This is a serious question, but I want to know how the heck did our Negro Detection System fail? We need to call Quality Assurance because it is broken. My Negro senses started tingling and saying "this ain't right" the moment I saw her picture. I have light folks in my family, hey daddy and family, but we can tell. So how did everyone else miss it? Y'all know she probably has more bottles of tanning lotion than every natural woman product junkie has jars of Eco styling Gel! She probably baptizes herself in it religiously. Again, I would too. The melanin is beautiful.
This wasn't the first time this has happened. Clarence Strange, a White man who was a famous geologist during the Gilded Age, passed as Black to be with his Black wife. Check out the book Passing Strange. I read it and liked it. You will like it too. (Affiliate link. Help me make some money).
Personally, I think folks wanted to ignore it. All of them! We all know how the NAACP and other Black organizations like their leaders light, bright and darn near White or in this recent case in Spokane really White. And don't be a light Black woman. That is an automatic ticket to leadership. Just kidding (not really). Here is a little NAACP history. Even though the NAACP always put forward Black faces, the first Black NAACP president wasn't chosen until 1975. You heard me. Nineteen freaking seventy-five! So that may explain it.
Thinking out loud: Are my eyes not 20/15 (I know I can't see) or does it look like Mrs. Dolezal stole Ms. Angela Davis' look with a bad eBay wig? 
Before y'all Kim Kardashian claiming they are Black caping, hotep and y'all love dark skin only on Black men folks come here and tell me to lay off Mrs. Dolezal because she was "down for the cause," I want to let you know she will not suffer. How do I know? Negrodamus predicts the NAACP and other Black organizations will start side eyeing every light-skinned leader their organization. Just kidding! In a few weeks I predict she will take off her Black face. Eventually, she will get a movie deal. It will probably be on Life Time because they live for this kind of thing. She will have a book a book deal and go on a lucrative speaking tour detailing her life as a strong strugglin Black woman. It will be all for the White gaze, of course, while actual Black women like me are ignored. This ironically is the ultimate White privilege.
But you have to ask yourself what kind of woman goes this far? I mean check out her Twitter handle! How did she get her family and friends to participate in this masquerade and how many people purposely ignored it? Those are questions we probably will never get answered. All I can say is stay Black or in Rachel's case keep trying. The only limit you have is the one you have placed on yourself. Think and be limitless.
If you like this post don't forget to subscribe, share this post and or even

 

donate

 

to this blog. DONATE!! Join the internet's only online forum exclusively for Black women

 

here.
Check out my 5 steps to building a killer blog and make money from it course! Pay what you can. Since you made it this far in the post, as my gift to you, I want you to download my free Change Your Mind, Change Your Life Goals and Action Plan Worksheets. The worksheets will help you create your goals and stick to them. Have you seen someone you know living an unfulfilled life, and you are afraid of living that way? Are you unsure about achieving your goals and the direction of your life? Purchase my book Change Your Mind Change Your Destiny. It is "The lifestyle blueprint for the strategic Black woman who wants to win and master her life." For only $2.99 and within hours you will be given tools created specifically for Black women to create goals and action steps to help you live the life of your dreams. Take the first step towards fulfilling your dreams. All you have to do is buy Change Your Mind Change Your Destiny today. We want to customize the forum for you. Don't forget to take the 30 second survey here and tell us what you need. Thank you